Its a SPINDLER tradition to celebrate a special restaurant night out to get prepared for what happens after midnight! Every year we serve a delicious menu in our spooky decorated venue, zip scary cocktail specials and enjoy the company of our customers who leaves around zero to jump in the berlin night. 2020? 
Its a pretty scary year so we decided to make the whole worldwide spook an end. How?
We invited the whole crowd of all the little magicians, witches & wizard's apprentices. A little sweet surprise is waiting for all of them cause we expect loads of fancyfull costumed mini monsters with there parents for the brunch.
This gathering of witches hopefully produce enough good energy to wipe out all the little crownmonsters from the other side. To much expectations? Damned, lets order another one of this fancy little cocktail specials.
So please join us, reserve your table for brunch or dinner and enjoy the last day of October in SPINDLER restaurant or whole roofed garden.
Of course, we fussy ensure to the actual rules such as distance and hygiene.
Seat are limited, please order your table in time.
Halloween at SPINDLER, Saturday, 31.10.2020
Halloween Brunch 10:00 – 16:00 | Halloween Dinner 18:00 – 22:00
3 course menu: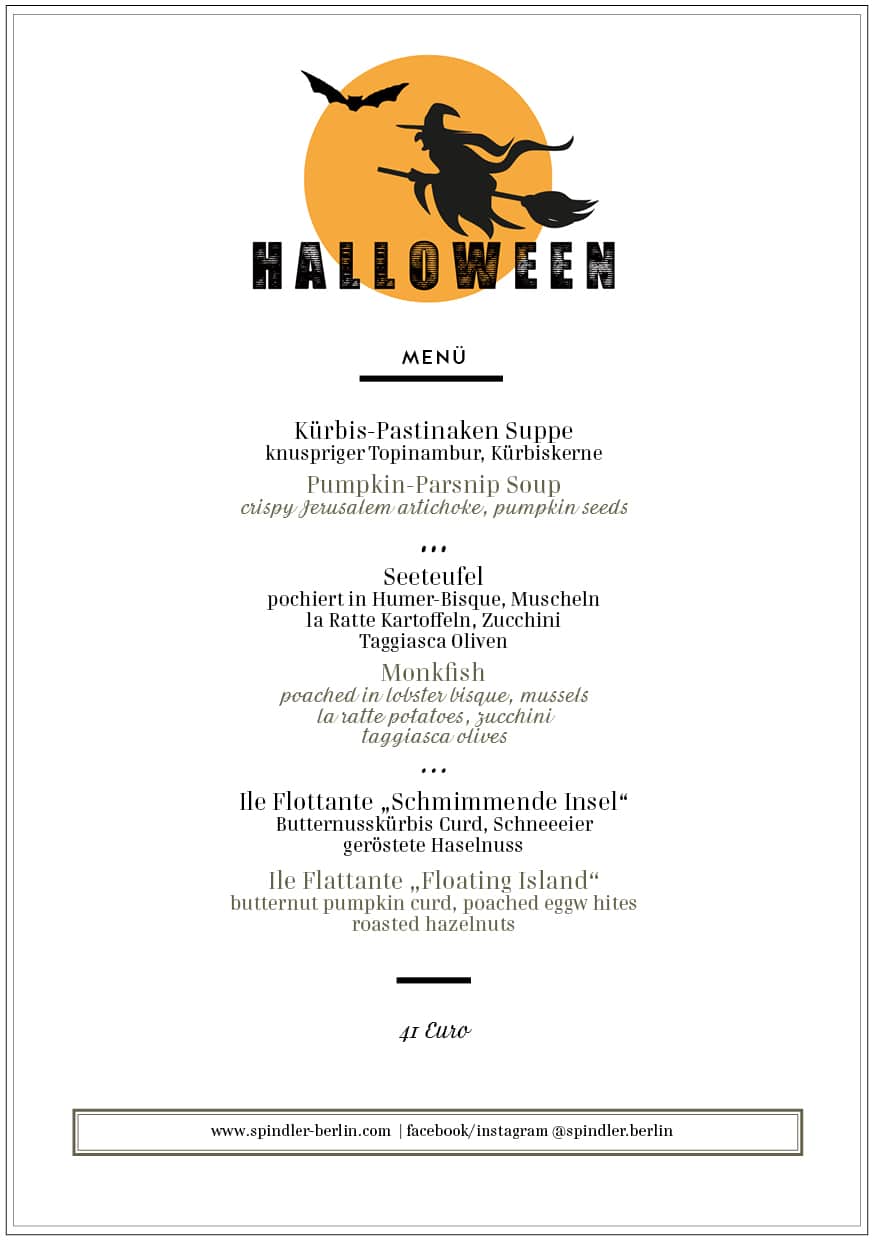 If you want to dine with us, you can simply book a table here online for the SPINDLER HALLOWEEN BRUNCH & DINNER on 31.10.2020
Spindler
Paul-Lincke-Ufer 42/43
10999 Berlin
Opening hours
Mo -Fr 9-0
Sa-So 10-0
Kitchen hours
Breakfast: mo-fr 9-12
Lunch: Mo-Fr 12-15
Bites: Mo-So 15-18
Dinner: Mo-So 18:30
Brunch: Sa-So 10-16
Impressum / Imprint
Privacy Policy
Contact
Restaurant
+49 (0)30 695 988 80
eat@spindler-berlin.com

Group Bookings
+49 (0)30 695 988 80
event@spindler-berlin.com